21.57 Acres Bandera County TX 78003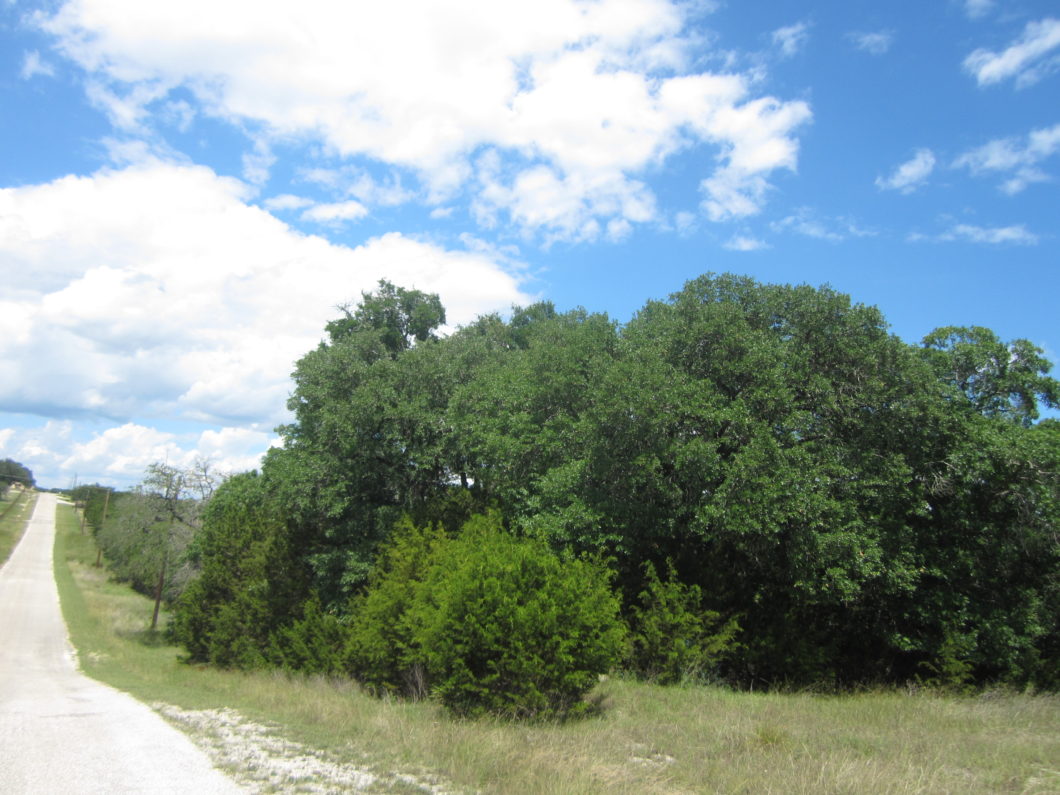 Sold
Description
SOLD List your property with us.
21.57 Acres Home site with under ground utilities in Madrona Ridge A Private Gated Subdivision for homes only in the Texas Hill Country. This Estate Living offers the homeowner to participate in the Wildlife Management Cooperative. The Private Security Gate brings peace of mind when you drive through that gate. The yearly dues are $400.00 per year.
Terrain: This property has character, from the creek bed with springs, to terraced higher elevations for long distant views of the Texas Hill Country. Excellent bottom land with good top soil, to rocky outcroppings. This is what everyone is looking for in the Texas Hill Country.
Location: This 21+ Acres is located in Madrona Ridge Subdivisions, located off of Wharton Dock Road. This private subdivision is approximately 4.5 miles from Bander Texas.
Access: Private Electric Gate.
Trees: There are a variety of trees, from Live Oak, Spanish Oak, Cedar Elm trees, which only grow where there is shallow water tables. The land has good grouse for the native wild life.
Cover: Excellent cover and browse for the Native Wildlife.
Wildlife: The wildlife in this subdivision are managed Under a WildLife Management plan. This is a requirement to all landowners in this Private Subdivision.
Hunting: Under the Wildlife management plan, each year there are certain areas that will be hunted and the game managed.
Utilities: This 21+ Acres has all the utilities onsite. Private Water well system with water to the shop/garage area with a water catchment system, private septic system designed for a 3 bathroom home. Electric is by Bandera Elect. COOP. From the main Elect. pole, all electric lines are underground in conduit. This is to keep your views clear of Overhead Utilities.
Fencing: This ranch has fencing on 2 sides. Under the Wildlife management plan, all fencing is low fenced.
Water: This is one of the few tracts in this area that offers a creek with a spring. Currently the creek is dry, but with the help of Mother Nature, the springs and creek will come back.
Improvements: An 888 sq, ft Metal Shop with a shower and bathroom inside makes for easy usage before you build, utilize this area for storage, parking equipment and tools. Green house for all the plants. There is a water catchment system with gravity feed to the bird baths for the wildlife.
Amenities: There are no actual amenities in this subdivision, but the peace of mind having a secure living area for your family, you have over a mile of private road for jogging, exercising, horseback riding, walking. And the joys of living amongst the natural wildlife and managing it as a way of living with the Wild Life Program.
The main electric gate entry is by restricted access. No one gets in this gate unless an owner lets you in. No gate codes.
Grasses: Excellent bottom land along the 2 seasonal creeks with good native grasses.
Easements: Utility and set back easements for building.
Soil: Excellent bottom land for horses and rocky hill top land.
Terms: Cash to seller
Ag Tax Value: This property is Under a Wildlife Management program and is a requirement for any owner to participate with Madrona Ridge WildLife Management Cooperative Contract.
Acceptable Use: Residential use.
Restrictions: Restricted for homes only 2,000. sq. ft. minimum. Wildlife management plan of Madrona Ridge.
Remarks: Its hard to find acreage for homes only in the Texas Hill Country For Sale in a Private Gated Subdivision with Homes that offer larger tracts of land for horses and under
A Wildlife management plan. This Property offers both of those elements. Larger Tracts of land with good restrictions for the higher end buyer.
Shown by appointment only to pre-qualified buyers.
Call Teich Properties, LLC for your appointment today.
Price:

$

SOLD

USD

City:
Bandera
State:
Texas
Zip Code:
78003
Square Feet:
888
Garage:
888 sq. ft metal
| | |
| --- | --- |
| Property Type: | residential home site on 21.57 acres |
| Financial: | Cash or Conventional |
| Condition: | good |
| Construction: | 888 sq. ft metal shop with utilities |
| Exterior: | metal |
| Fencing: | partial |
| Flooring: | concrete flooring in shop |
| Heat/Cool: | n/a |
| Lot size: | 21.57 Acres with improvements |
| Location: | Madrona Ridge |
| Scenery: | hill country views |
| Community: | Bandera Texas |
| General: | This 21.57 Acres has all the utilities on site with 888 sq. ft metal shop. |
| Parking: | Plenty of parking for the family |
| Utilities: | Water well, 1000 gal. septic tank, BEC electric meter with under ground elect. to home site. water catchment system, green house. |
Tagged Features:
Listing Inquiry